Stockport NHS Foundation Trust 'needs more improvement', report finds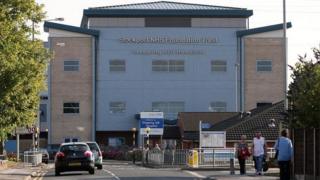 A hospital trust which was ordered to improve by the Care Quality Commission (CQC) has seen standards drop further in the watchdog's latest inspection.
Stockport NHS Foundation Trust, which runs Stepping Hill Hospital, was last year told to improve by the CQC.
However, a follow-up inspection found more problems, including patient care being "compromised" by staff shortages.
Trust chief executive Ann Barnes said she was "upset and disappointed that we have not been getting it right".
Inspectors visiting the trust in March found all the wards they went to had "one to two nurses less per shift than... required to meet patients' needs", with one having "one registered nurse to 13 patients".
They discovered staff were "frequently moved... to fill gaps in rotas", which senior nurses said had "compromised" patient care, and "patients' dignity was not consistently maintained".
'Black breaches'
The inspectors also found other problems, including a "significant increase" in "black breaches" - incidents where a patient arriving by ambulance has to wait more than an hour before being handed over to hospital staff.
No month saw less than 20 breaches, with one seeing 218 - 19 more than happened during the whole year covered by the previous inspection.
However, the CQC did find some positives, stating staff offered "kind and considerate care to patients and those close to them".
The health watchdog concluded the trust must do "all that is reasonably practicable to ensure there is safe staffing" and "ensure that patients' dignity is preserved at all times".
Ms Barnes apologised to those who "the reports show we were failing", but said a "huge amount of work" had taken place to rectify problems.
Medical director Dr Colin Wasson admitted the trust was "stretched and under pressure" and said recruitment remained "a challenge... but our intense efforts continue locally, nationally and internationally."
He added that the "care of our patients will always be our top priority".