HMP Manchester conditions 'squalid', report says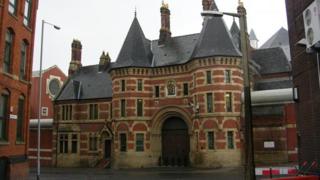 HMP Manchester is "squalid, vermin-infested" and "reminiscent of Dickensian England" a report has said.
The damning report on the former Strangeways said staff shortages were causing more assaults on officers, and the prison needed urgent modernisation.
The nature of the Victorian buildings left prisoners dining "within close proximity to an open toilet," the Independent Monitoring Board said.
The Ministry of Justice said it was "committed to transforming prisons".
Members of the board said problems with the prison's Victorian buildings, identified in its 2015 report, were becoming "more profound and more difficult to rectify" as "the years pass".
"The desire to provide decent, humane, safe accommodation in which prisoners may find a degree of self-respect is extremely difficult to achieve when faced with the squalid, vermin-infested, damp environment more reminiscent of Dickensian England that parts of HMP Manchester are becoming," the board said in its latest report.
Broken showers, windows and equipment
"Prisoners and staff should not be expected to live and work within such environmentally unhealthy residential premises."
It said "totally unnecessary delays" by contractors led to a backlog of repairs including broken showers, broken windows and "useless" electrical equipment.
These delays put "pressure on staff to manage prisoners" it said.
A Prison Service spokesman said: "We are committed to transforming prisons into places of safety and reform and have announced a major overhaul of the prison system including 2,500 extra frontline officers.
"While there remains progress to be made, HMP Manchester has already committed to addressing a number of concerns raised in the report.
"They are making great progress towards meeting their recruitment target through a successful recruitment drive and have employed a new Violence Reduction Strategy."
HMP Manchester is a high security prison, which houses around 1,200 male inmates.