Metrolink fares rise annually by 6% until 2020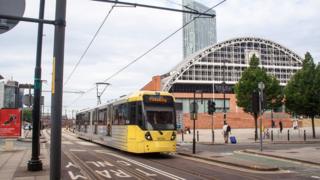 Tram fares in Greater Manchester will increase by about 6% annually until 2020, after council leaders approved the rise.
Metrolink fares had been frozen since 2014.
Transport for Greater Manchester (TfGM) said the increase would be used to cover operating costs and loans to pay for the network's growth.
The rise in the adult fare will take place over a three-year period from January 2018.
The package of proposals was approved at a Greater Manchester Combined Authority meeting earlier.
Other changes passed by the region's ten council leaders include:
standardising child fares at 50% of the adult fare
halving the cost of an off-peak day or weekend ticket for 16-18 year olds
increasing the cost of a special event ticket for an adult from £3 to £4
The introduction of half-price travel for 16 to 18-year-olds, to be followed at a later date by a free bus pass, was among Andy Burnham's manifesto pledges before he was elected as Greater Manchester's mayor in May.
Metrolink, which is the UK's largest light rail network, hosts more than 38 million passenger journeys annually.