Ellen Higginbottom: Couple sentenced for handling stolen goods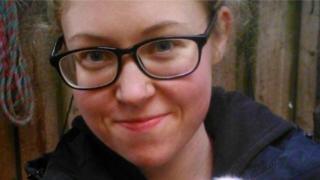 A couple who bought a murdered girl's mobile phone from her killer have been sentenced.
Mark Buckley was jailed for life for the murder of 18-year-old Ellen Higginbottom in June at Orrell Water Park in Wigan, Greater Manchester.
Dean Speakman, 30, and Vicki Calland, 31, both of Wigan, bought a phone from Buckley and stored a laptop and bag. They admitted handling stolen goods.
Speakman was jailed for 20 months while Calland received a suspended jail term.
Calland was given a 16 month term at Manchester Crown Court, suspended for two years.
The Crown Prosecution Service (CPS) said Speakman, of Cobmoor Avenue, Billinge and Calland, of St Marys Road, Aspull, believed Buckley had stolen a bag, phone and laptop from a park bench.
They bought the phone for £40 and agreed to keep the laptop and bag in a shed overnight.
The following day when they heard about Ms Higginbottom's murder they took the items to Billinge Woods, where they saw Buckley.
The pair threw the bag and laptop on a fire Buckley had started and threw the phone into a bush.
The couple pleaded guilty at an earlier hearing to handling stolen goods and perverting the course of justice.
Buckley, of New Hall Lane, Preston, was ordered to serve a minimum of 31 years for the "savage and brutal attack" on Ms Higginbottom.