Bolton dog attack man Daniel Hennessy jailed for 11 months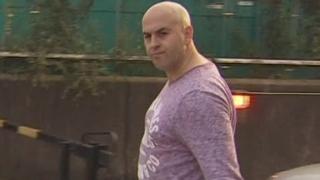 A man has been jailed for 11 months after his "aggressive pack of dogs" ran wild in a park forcing the deployment of armed police.
However Daniel Hennessy, 39, of Halliwell, Bolton, was released at the town's crown court because of time he spent on remand.
Hennessy admitted owning a dog that caused injury while dangerously out of control and to possession of cannabis.
He was also banned from keeping dogs for seven years.
'Running wild'
Judge Richard Gioserano told Hennessy: "Either you did not realise how dangerous the situation was or did realise it but did not care. Both are troubling."
He said the dogs "behaved as an out-of-control aggressive pack".
Vanessa Thomson, prosecuting, said one of Hennessy's dogs picked up a shih tzu in Queens Park, Bolton, on 2 April.
She said Hennessy disregarded the fact the dogs "were essentially running wild" and became aggressive when confronted about them.
'Shot dead'
David Hitchen ran out of a nearby cafe to see one of the dogs had the shih tzu in its mouth and separated the animals, the court heard.
He was then surrounded by the dogs and bitten on both legs, suffering a number of puncture wounds.
Armed police later shot dead two pitbull-type dogs.
Pamela Rose, defending Hennessy, said: "For him, losing these dogs was a very high price. He did suffer quite considerably as a result."
The court was told Hennessy had been working with the Probation Service, following a conviction for an earlier offence, on the possibility of him setting up a dog-boarding business.