Glamping pod fire woman, 20, critically ill in hospital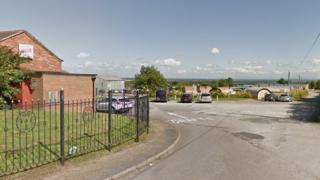 A woman is critically ill in hospital after a fire left her trapped inside a glamping pod in Cheshire.
Lydia Wadsworth, 20, suffered serious burns in the blaze that broke out when clothing was left too close to a log burning stove, firefighters said.
The fire happened at the Lady Heyes Caravan and Camping Site, in Frodsham, on Saturday.
Ms Wadsworth's family said her respiratory system was severely damaged in the blaze.
Her boyfriend, Rob McDonnell, 24, from Wigan, was also taken to hospital suffering from smoke inhalation.
Writing on Facebook her family said: "She can't speak as she has a ventilation pipe which blocks her voice box, however she has written to ask if we'd write a message to her friends and family thanking them for their kind wishes at such a difficult time.
"She has 7% burns to her right arm and severe damage to her respiratory system but is making positive progress which is what we are trying to focus on."
They praised the nursing team at Whiston Hospital, where Ms Wadsworth was taken, for being "outstanding".