Greater Manchester GP practices start 'homeless-friendly' scheme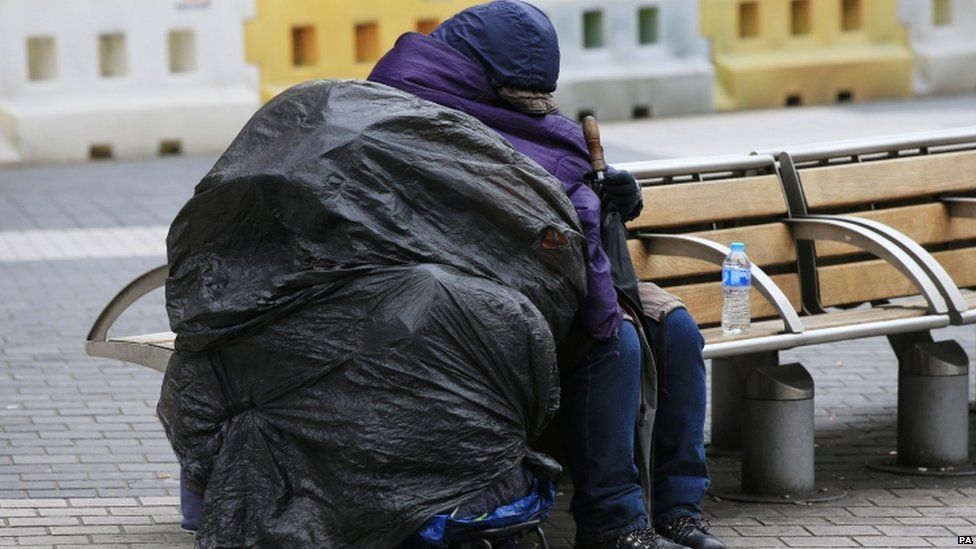 Homeless patients are being urged to seek treatment at ten GP practices in Greater Manchester instead of accident and emergency departments.
NHS policy states identification or proof of address is not needed to be seen by a GP, but some homeless people claim they have been turned away.
Practices in Manchester, Oldham, Bury, Bolton and Rochdale have now signed up to a new "homeless-friendly" scheme.
Michael Moores, who sleeps in an empty building, said it "would help".
The scheme, which was set up by Dr Zahid Chauhan at social enterprise Beacon GP Care, has also seen survival kits, containing blankets, bottled water, sleeping bags and a list of surgeries, handed to rough sleepers.
Mr Moores, from Rochdale, said he ran into difficulties when he had a fall and was told at the local hospital that he should have gone to Bury instead.
"They said 'why didn't you go to Fairfield?'," he said.
"I haven't got the money to get to Fairfield, so I didn't end up doing anything about it."
He said the new scheme was good as it allowed people who "haven't got any access" to a doctor to "actually go in and see one".
Dr Chauhan said without access to a doctor, homeless people were not seeking help until they were in an "emergency situation".
"I have seen a woman who had a minor leg infection - all she needed was a course of antibiotics, but she struggled for weeks and weeks," he said.
Greater Manchester Mayor Andy Burnham, who has pledged to end rough sleeping in the region by 2020, said the scheme could save the NHS money as it was "cheaper for somebody to wander into a practice" than go to hospital.
"It makes sense to give people that care when they need it, rather than letting it become a much greater problem that might end up costing us all more," he added.
Inside Out North West is at 19:30 BSTon Monday 2 October on BBC One in the North West and later on BBC iPlayer for 30 days.
Related Internet Links
The BBC is not responsible for the content of external sites.