Cheshire East Council's Michael Jones resigns from local Tories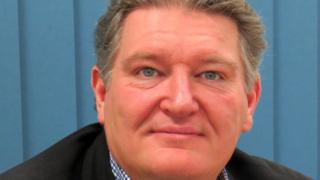 Former Cheshire East Council leader Michael Jones has resigned from the local Conservative group.
He was facing a vote to suspend him over his business dealings and questions over the way in which council contracts were awarded during his time as leader.
Mr Jones accused the council's current leader, Rachel Bailey, of orchestrating a campaign against him.
She firmly denied being behind any such attacks.
In an email to Conservative councillors announcing his resignation, Mr Jones claimed "elements within the group are personalising attacks on me".
He said Ms Bailey had been "leaking and briefing against me" and said "false allegations" had been made against him, but did not give details.
"I do not associate myself with the comments made by Councillor Jones in his resignation email," Ms Bailey told the BBC.
Conservative councillors were due to vote on a motion on Tuesday, which could have seen Mr Jones suspended from the local party due to his current business links to the owner of Core Fit Ltd, Amanda Weston, who was formerly known as Amanda Morris.
Mr Jones resigned as council leader in December 2015 following pressure over contracts given to Core Fit Ltd, which totalled £156,000.
He denied wrongdoing after the council waived its financial rules three times to do deals with the firm.
Cheshire Police is looking into the way the council awarded contracts as part of a misconduct in public office investigation.
Mr Jones and Core Fit owner Ms Weston are now members of a consortium bidding to establish a medical education centre at the site of Crewe's Manchester Metropolitan University campus, which is due to close in 2019.
Mr Jones's opponents claim his current links with Ms Weston could "cause embarrassment" to the Conservative party, and question whether it would amount to a breach of the party's code of conduct.
He has previously said the attempt to suspend him was being orchestrated by "some local Conservatives" against his attempt to establish the centre in Crewe.
Ms Weston has declined to comment.
Mr Jones remains councillor for Bunbury and is still a member of the national Conservative party.