Seven Bury GP practices reveal plan to merge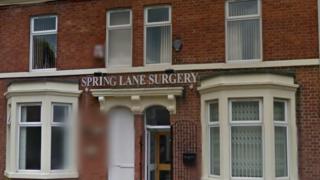 Thousands of patients could be affected by a plan to merge seven GP surgeries in Bury to create one of the largest practices in Greater Manchester.
The surgeries would become part of one practice named Tower Family Healthcare and patients would be able to access services at any of the seven sites.
Doctors said it would allow them to provide additional specialist services to reduce hospital appointments.
The plan is subject to consultation and NHS approval.
Surgery bosses said they would maintain all of their current buildings and patients would keep access to their usual doctor in the same centre.
The new practice would have more than 30 GPs and up to 50,000 patients.
The seven surgeries are:
Greenmount Medical Centre in Brandlesholme Road
Minden Family Practices in Derby Way, Bury which incorporates three practices - Yacht, Waves and Anchor
Spring Lane Surgery, Radcliffe
The Uplands Medical Practice, Bury New Road, Whitefield
Tottington Medical Practice in Market Street
Dr Ajay Kotegaonkar from Spring Lane Surgery said the plans would make services "more stable".
"It will allow us to meet the challenges of today and the problems of tomorrow," he said.
"What patients will notice is if we can free ourselves up from some of the bureaucracy, doctors will have more time for patients."
If NHS approval is granted, the merger could happen by April next year, Dr Kotegaonkar added.