Drugs gang hid heroin in dog treats and washing powder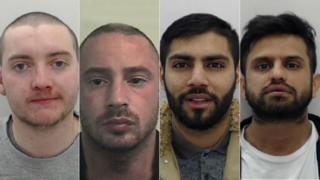 Four men who hid heroin in boxes of dog biscuits and washing powder have been jailed.
The gang, who used military encrypted phones, were caught with 2.5kg (5.5lbs) of drugs with an estimated value of £275,000, Manchester Crown Court heard.
Mohammed Jabbar, 28, Mohammed Rafique, 40, and Jonathan Clorley, 25, all of Greater Manchester and Jeremy Curran, of Glasgow, all admitted drug offences.
In phone messages, Jabbar boasted about having £150,000 worth of drugs.
Jabbar of Howgill Crescent, Oldham was sentenced to 15 years, Rafique of Spender Avenue, Cheetham Hill was given 14-and-a-half years, Curran got 12 years while Clorley, of Padfield Avenue, Oldham, were sentenced to seven years.
Middle East contact
Greater Manchester Police said Rafique and Jabbar, who were under surveillance, were seen supplying a man in the Cheetham Hill area of Manchester with 250g (8oz) of cocaine, in July 2016.
Police then found the pair with heroin in two boxes of dog treats and a box of washing powder when they stopped them and Clorley, as they drove to Glasgow on 17 August 2016.
During their investigations, detectives found the drugs gang had been communicating using military encrypted mobile phones.
Their exchanges also revealed Jabbar told a Middle East associate he had supplied heroin to Curran.
Insp Lee Griffin, from Greater Manchester Police, said: "After concealing a large amount of potent and dangerous drugs in household items, I can only imagine the tragedy that could have occurred if these boxes had fallen into the wrong hands.
"Although these men went to great lengths to cover up their illicit dealings, it was their own arrogance which led to the downfall of their carefully laid plans."