Rochdale dad 'snapped and murdered baby son'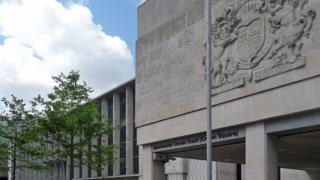 A "violent" father "snapped" before murdering his baby who was teething and crying, a court has heard.
Manchester Crown Court heard eight-month-old Leyton Dawick from Rochdale suffered injuries normally associated with high-speed car crashes.
Craig Dawick, 25, denies murdering his son on 6 September last year.
Leyton's mother Chantelle Flynn, also 25, has pleaded not guilty to causing or allowing the death of her baby and perverting the course of justice.
'Covered in bruises'
Neil Usher, prosecuting, told the jury Ms Flynn had gone out and left Dawick, of Durham Street, Rochdale, alone with the child even though he had previously been violent to her and she knew about his temper and the "significant risk" he posed.
Telephone records showed he called Ms Flynn twice at 08:35 BST and 09:08 before paramedics were called to the house by Ms Flynn at 09.15 when she returned home.
The court also heard paramedics found Leyton close to death and "covered in bruises" and Dawick had left via the back door before police arrived but soon returned with Ms Flynn then participating in a "charade" by telling him that their son was unwell.
Leyton was taken to a hospital in Oldham before being transferred to intensive care at Manchester Children's Hospital.
The jury heard medics noted six separate areas of bruising.
Scans also showed multiple injuries to the child's brain. Medical care was withdrawn two days later.
'Vigorous shaking'
Post-mortem examinations showed Leyton suffered fractures caused by pulling and twisting of his limbs.
Leyton suffered "significant" head trauma, consistent with non-accidental head injury, potentially caused by "vigorous shaking".
One expert in trauma injuries said these were among the worst he had seen in more than 300 child injury cases, the court heard.
Mr Usher told the jury: "The prosecution case is that, left alone with a baby who may well have been crying or even screaming that morning, Craig Dawick snapped and deliberately inflicted Leyton's fatal injuries."
Mr Dawick gave a "no comment" interview following his arrest but did provide a statement saying his son had suffered a fall at home which caused the fatal injuries.
Ms Flynn, who described her on-off boyfriend as a "brilliant father" denies any wrongdoing.
The trial was adjourned until Tuesday.