Prince Harry revisits veterans' DIY SOS homes scheme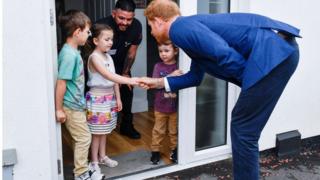 Prince Harry has been welcomed back to the street given a makeover for ex-servicemen during BBC One's DIY SOS.
He was told by a five-year-old girl to wipe his feet before he entered one house in Canada Street, Manchester.
He obliged Lilly-Ann Flores with an exaggerated jig on her door-mat.
The prince visited two years ago as part of a project to redevelop derelict homes for former armed forces personnel.
Lily's father, former soldier Simon Flores, said she always asked visitors to wipe their feet.
Mr Flores, 37, and his children are among families living on Canada Street who have been housed with the help of the Walking for the Wounded (WWTW) charity.
Arena attack
The DIY SOS team began the street's transformation in 2015, with the help of Prince Harry and his brother, the Duke of Cambridge.
Prince Harry visited a number of the houses and the families who have moved in.
Mr Flores, who served with the Royal Green Jackets and then the Rifles for 13 years, lost a foot in an explosion in Iraq in 2006.
"He's experienced it, he's seen it, so he knows where we're coming from, he can relate," said Mr Flores.
The prince also visited mental health workers helping those affected by the Manchester Arena attack on 22 May, which left 22 dead and scores injured.
And he also dropped into a training session at Manchester City with local schoolchildren given by apprentice sports coaches.
The NHS Manchester Resilience Hub helps people affected by the attack.
Earlier this year the prince spoke about the effect his mother's death had on his mental health.
The visit to Manchester came on the day the Duke and Duchess of Cambridge, announced they were expecting their third child.
Asked for his reaction, the prince said: "Fantastic. Great. Very, very happy for them."