Bolton's £48m bus station opens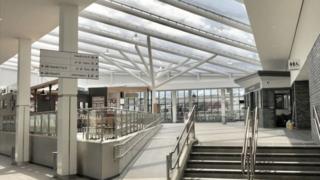 A £48m bus station has opened to passengers in Bolton.
The building, next to Trinity Street railway station, replaces the old station on Moor Lane and features an enclosed footbridge for passengers to walk to nearby train services.
The interchange, which was financed through the Greater Manchester Transport Fund, also has bicycle storage and improved accessibility.
The railway station, which has been closed, is due to reopen on Wednesday.
It had been due to reopen last month after electrification work was completed but remained shut because a burst water main caused a bridge to collapse.
Bolton Council said the previous bus station, near Bolton Market, would not become derelict and has committed £4.5m to refurbish the market.
Leader of Bolton Council, Cliff Morris, tweeted that the new building had "exceptional facilities".