Greater Manchester launches half-price bus tickets for 16 to 18 year olds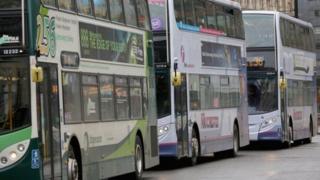 Half-price bus tickets for 16 to 18 year olds have been rolled out in Greater Manchester.
Up to 100,000 teenagers will be eligible for discounted day tickets using the young persons 16-18 card.
The scheme, announced in June, was agreed by mayor Andy Burnham and Transport for Greater Manchester.
Mr Burnham said he is "absolutely delighted" it is "now easier and cheaper" for young people to access work, education and leisure.
A "16-18 get-me-there smart card" is needed in order to get the discount, Transport for Greater Manchester said.
Eligibility to use the ticket will run up to 31 August after the user's 18th birthday.
A similar scheme is being considered for the Metrolink.
Mr Burnham made a pledge to provide free travel to young people in the area in his manifesto to become mayor.