Cyclist trapped under lorry after Salford crash dies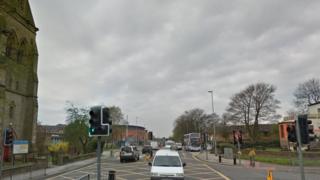 A cyclist who was trapped under a lorry for several hours after a crash in Greater Manchester has died.
The 18-year-old woman was involved in a collision with a lorry on Eccles Old Road, Salford, at about 15:35 BST on Friday, police said.
She was freed by firefighters and taken to hospital but later died from her injuries.
Investigators are appealing for witnesses and anyone with dashcam footage to come forward.
Eccles Old Road, Lancaster Road and Stott Lane were closed following the crash.