Ex-Cheshire West council leader refuses to repay alcohol expenses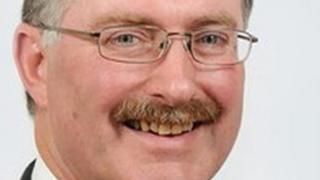 A former council leader has refused to repay more than £450 of taxpayers' money he spent on alcohol while representing the council.
Mike Jones has been asked to reimburse Cheshire West & Chester Council with £459 spent between 2013 and 2015, during his time leading the authority.
The council said Mr Jones' spending did not breach policy, but "was not in the spirit" of the rules.
Mr Jones told the BBC: "My conscience is clear."
The Conservative councillor dismissed the matter as "a vexatious and politically-motivated allegation".
Records show Mr Jones bought alcoholic drinks with a council credit card on 42 occasions at restaurants and hotels, as well as at Chester's racecourse and the city's football club.
Fifteen of the purchases are listed as part of a "meal for one".
Mr Jones said many of the drinks were bought during meetings and events aimed at attracting investment to the region which he said was "normal business practice".
"I absolutely fundamentally believe I've delivered value for money for this council", he added.
---
Mike Jones' expenses included:
£333 for a dinner meeting for three, with alcohol, at Chester's five-star Grosvenor Hotel
£271 for dinner and drinks at Chester Racecourse
£254 for drinks at the Chester and Cheshire Food and Drink Awards 2014 gala dinner.
---
Officials began an investigation into Mr Jones' spending on travel, food, drink and accommodation in March after a Labour activist claimed he may have breached the authority's rules.
Ben Powell, who made the original complaint, claimed "expensive bar bills" had been "racked up on the public purse".
In a letter to Mr Jones in April, the council's director of corporate services Mark Wynn said alcohol was "clearly stipulated as not allowable spend on purchase cards".
But auditors who reviewed the council's investigation found Mr Jones did not breach rules which barred the cards being used for travel, food, drink and accommodation, because he exempted himself from those rules and was not challenged.
Mr Wynn later said Mr Jones had been asked to repay the money on a "voluntary" basis.
He said: "Since this request was voluntary.. we must accept Councillor Jones' response as the end of this matter."
Cheshire Police also began reviewing the complaint in March, but concluded that no criminal offences had taken place.
Auditors criticised the authority's policies and procedures governing council credit cards saying there was a "lack of robust scrutiny and challenge" of the use of the leader's card.
But while they accepted the majority of Mr Jones' spending related to "official council business", auditors also said the "reasonableness" in terms of the cost and type of hospitality provided could, "in some cases, be open to challenge".
In his response to the request for a refund, Mr Jones wrote: "I am not sure why alcohol is an issue as the council itself has spent money on alcohol for guests.
"Therefore, after due consideration, I will not repay any monies as I believe it is inappropriate."
Mr Jones was the only councillor to own a council credit card when he ran the Conservative-led authority from 2009 until elections in 2015, when Labour gained control.
He is now a backbench Conservative councillor for Tattenhall.