Manchester Arena bomber's brother 'should be tried in UK'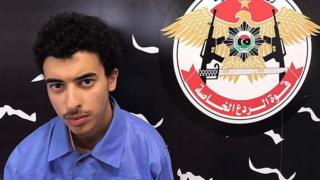 Greater Manchester Mayor Andy Burnham has called on the Prime Minister to ensure the brother of the Manchester bomber is tried in the UK.
Salman Abedi detonated a home-made device on 22 May, killing 22 people and injuring 116 in a suicide bombing at Manchester Arena.
The BBC understands his brother Hashem Abedi's trial will take place in Libya.
The Prime Minister and the Home Office are yet to comment on Mr Burnham's "grave concerns".
Hashem Abedi, 20, was arrested in Tripoli by members of the Rada Special Deterrence Force a day after the attack, along with the brothers' father, Ramadan Abedi.
His father has since been released, but Hashem is suspected of having helped his brother and collected materials for the attack.
Mr Burnham said: "I have grave concerns about reports that a trial may take place in Libya connected with the atrocious attack at the Manchester Arena in May.
"This was an appalling attack on our city and any trial conducted thousands of miles from Manchester would in no way represent justice for all those who have been affected.
"It is essential that any trial connected to the attack, particularly if it involves a UK citizen, takes place in the UK under British law."
He added: "I am today calling on the Prime Minister and the government to do everything within their power to make sure that this is what happens."
Greater Manchester Police (GMP) said Hashem Abedi is a suspect and would be arrested if he was in the UK.
The force denied that he has been interviewed by British police officers.
"We have had discussions with the Libyan authorities in respect of Hashem Abedi and at this time we cannot comment on any detail about this," they said in a statement.
Salman Abedi detonated a home-made bomb in the foyer of Manchester Arena as crowds were leaving an Ariana Grande concert.
The 22-year-old, who was born in Manchester to Libyan parents, had left the UK on 15 April and travelled to Libya before returning to the UK four days before the attack.