Boat dumped in Manchester street reunited with owners after Twitter fame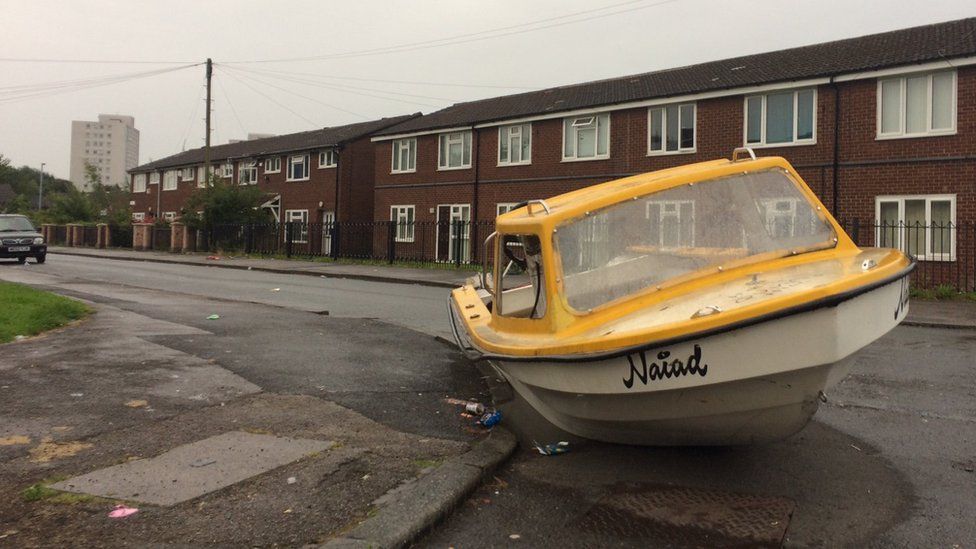 A boat seemingly dumped at random in the middle of a Manchester street has been reunited with its owners after a social media post of it went viral.
Residents of Rimworth Drive were left baffled when the small yellow river cruiser was abandoned on 10 August.
Salford-based arts company Walk the Plank, which produces the annual Manchester Day parade, has now been given the boat - called Naiad - back.
Its trailer is still missing though - a reward has been offered for its return.
The boat and trailer were taken from Walk the Plank's base in Salford.
Creative producer Liz Pugh said: "Someone had broken in on Thursday evening and stolen it. I think what they'd wanted is the trailer which is really valuable and as a result they dumped the boat in Collyhurst."
She spotted a photograph of the boat after seeing a social media post from a BBC Radio Manchester reporter which had been retweeted by a comedian.
Greater Manchester Police said anyone with any information about the theft of the boat and/or its trailer should contact them.
The banana-yellow boat will now be turned into a "river monster" for a show in Reading next month.