Seven Vietnamese people missing from Rochdale care home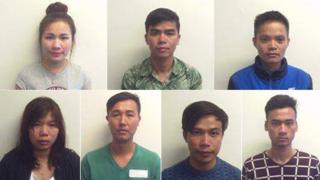 Seven Vietnamese people have gone missing from a care home in Rochdale.
They were among a group of 23 found in a lorry during an immigration raid at Birch Services on the M62 on 2 June.
Those who claimed they were under 18 were taken into the care of social services and an investigation is under way to find out more about them including how old they are.
An appeal on Greater Manchester Police Rochdale's Facebook page earlier said they were missing teenagers.
The post said the force was becoming concerned for seven children, aged between 15 and 17, who had gone missing.
Age assessments
A spokesman for Rochdale Borough Council said the group "required further age assessments to determine whether they were young people or adults so that they can be supported and managed by the appropriate services."
"We are working with police and immigration services to locate a number of people who are missing from the Rochdale area," they added.