Pele's World Cup shirt goes on display in Manchester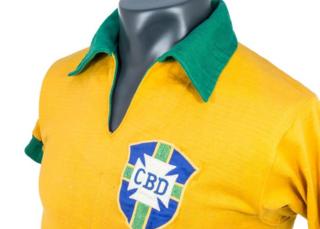 The Brazil shirt worn by football legend Pele in his World Cup finals' debut and a crown he got as King of Football are going on display.
Pele: Art, Life, Football shows stages of his life through courtesy of artists and photographers.
It will also include some never-before-seen objects such as his 1962 World Cup winner's medal.
The exhibition at the National Football Museum in Manchester opens on Thursday and runs until 4 March 2018.
The artefacts include the Brazil shirt he wore in his first game at the 1958 World Cup finals against the USSR, his 1962 World Cup Winner's medal and a crown he was given in a game against Chile.
There is also the ball from a hat-trick he scored for New York Cosmos in the 1970s and a passport.
The museum has also given its life-sized statue of the sportsman a hair transplant in honour of the occasion.
Kevin Haygarth, interim director at the museum, said: "We wanted to celebrate Pele in a way which befits his vibrant and creative personality, and hosting a range of stunning imagery alongside significant items from his career certainly does this."