Manchester bands' music lyrics appear on the streets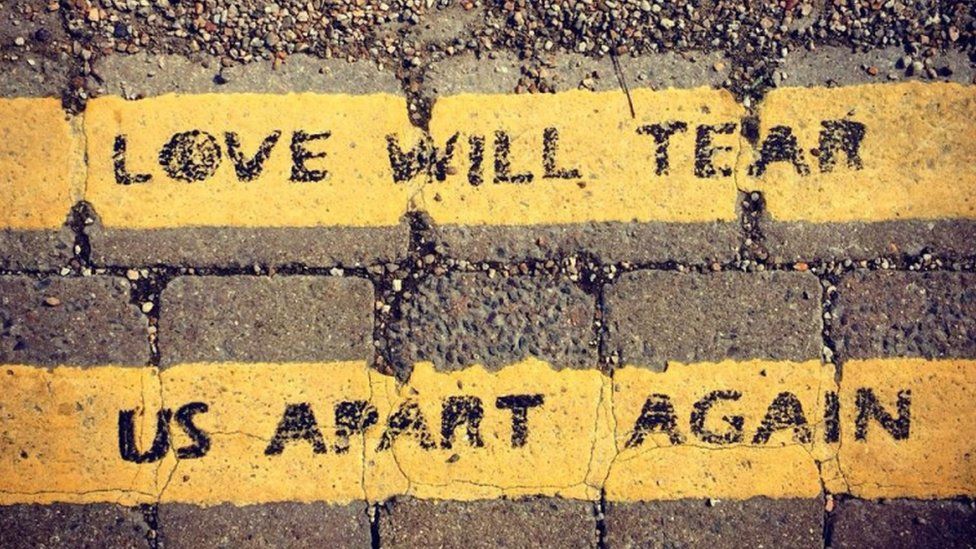 An artist has been stencilling lyrics taken from Manchester bands The Smiths, Joy Division and The Stone Roses on double yellow lines.
The scribe known as AlShepMCR on Instagram has been paying tribute to some of the city's music greats in recent weeks.
Prestwich, Whitefield and Manchester's Northern Quarter are some of the places the sketches have appeared.
The artist says it is not vandalism and that some people see it as "poetic".
He has stencilled words from Joy Division's Love Will Tear Us Apart and The Smiths' Shoplifters Of The World Unite and The Stone Roses' Fools Gold.
He said: "I don't want to make a mess and it does wash off after a couple of weeks, depending on the weather or the traffic."
Of his reasoning for his unique etchings, he said: "I always pick out the lyrics that mean something.
"Sometimes I make them fit around mental illness. People see what they want in them.
"I've done stuff for years."
The artist added: "My inspiration is autism and schizophrenia and Tourette's [syndrome], that's what often goes into it.
"It's not about me, I just want people to think and they can take the meaning they want."
Over the years, AlShepMCR said he had also stencilled words on to zebra crossings.
He said of his "cathartic" process: "I've had the same stencil kit for 20 years.
"I don't want money. I scribble on money and people in the shops won't take it."
He also dismissed comparisons to street artist Banksy.
He said: "He's making a mint, I'm making nothing."