Manchester town hall refurbishment: Hotel plans 'too risky'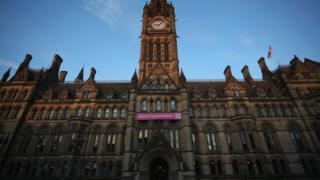 Plans to turn part of a Grade I listed town hall into a "boutique hotel" were dropped because they involved "too much financial risk", said councillors.
Manchester City Council said it will instead rent out office space in Manchester Town Hall after a £330m refurbishment was given final approval.
Spending an additional £30m on a 65-bed hotel in the upper floors was "prohibitive", said the council.
The authority will now appoint contractors to realise the project.
Deputy leader Bernard Priest told the executive meeting that some of the options, including the hotel, "were either not likely to generate a worthwhile income or would be too risky to the project".
While building a prestigious hotel on the upper floors was considered "physically feasible", council bosses said constraints associated with the building's listed status would make it "less attractive to operators".
The council said: "The fit-out cost... an estimated £30m on top of the project budget, would be prohibitive... and involve too much ongoing financial risk."
An internal review by the Labour-run authority found the crumbling 19th Century building was "seriously showing its age" and required "essential repairs".
Mr Priest said: "Allowing this iconic building to slide into decay and disuse is not an option."
He said the refurbishment would "safeguard the much-loved masterpiece", improve public access to the building and enhance it as a "visitor destination".
Letting out part of the building as office space was a "reasonable and robust" proposal and will not increase capital costs.
Sir Richard Leese leader of the authority said services would not be cut to fund the project.
History of Manchester town hall
Designed by architect Alfred Waterhouse, who also designed Manchester University's historic buildings
Constructed between 1868-77 at a cost of around £1m
Used as a backdrop for films including The Iron Lady when it doubled as the Houses of Parliament
The building has not had a full upgrade since its completion in 1877
Grade I listed, it is of 'exceptional architectural interest and national importance'