New £192m bypass opens linking M6 and M56 motorways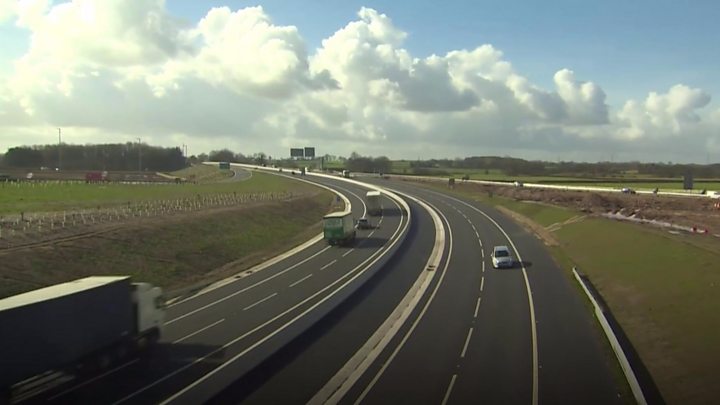 A £192m dual carriageway linking the M56 motorway with the M6 in Cheshire has opened.
The new A556 bypass connects the M6 at junction 19 near Knutsford with junction 7 of the M56 at Bowdon in Greater Manchester.
Highways England started construction of the new road to ease congestion on the route which carries more than 51,000 vehicles a day.
The existing A556 will be downgraded and reduced to a single carriageway.
The four-mile (6.5km) stretch of road between the M56 and the M6 is a major corridor connecting Manchester with the south of England.
But passing through some small Cheshire villages, it became a known bottleneck for traffic.
Kevin Scallan tweeted about the new route: "Miles better than the old A556 route through Mere and Bucklow Hill. No traffic jams or hold ups."
The existing southbound carriageway of the old A556 will become two lanes, one in each direction.
The northbound lanes will be used to provide a shared pathway for pedestrians, cyclists and horse riders.
A556 bypass - facts
The project includes 14.5 miles (23.3km) of fencing, which is enough to stretch from Mere to the centre of Manchester
Workers moved 24,720,000 cubic ft (700,000 cubic metres) of earth, enough to fill 10,000 shipping containers
It has seven bridges and one underpass over and under the road
The construction team worked on 100,000 tonnes of surfacing and moved 180,000 tonnes of hardcore
Over 1,259,000 sq ft (117,000 sq m) of shrubs and trees were planted and 42,377,000 cubic ft (1,200,000 cubic metres) of earthworks landscaped