Rapist who targeted girls in Rochdale jailed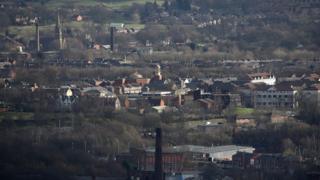 A serial sex offender who targeted girls and young women in Rochdale has been sentenced for raping a 16-year-old girl.
Mohammed Miah, was found guilty of raping the 16-year-old in North Wales in 2007.
Miah, 41, was jailed for 12 years at Manchester Minshull Street Crown Court.
The married father-of-four, who is already serving a 23-year jail term, has a "dreadful record of sexual offending" Judge John Potter said.
His sentence will run concurrently to his other jail term.
"Extremely vulnerable"
Miah, formerly of Bellshill Crescent, Rochdale, was one of 10 men jailed in April for sexually abusing a complainant who said she had been repeatedly groomed by a large number of men in Rochdale.
His identity can now be revealed after reporting restrictions against naming him were lifted by the court.
Miah, known to the victim who he had met a day earlier as "Ali", bought her alcohol and drove her from Rochdale to the beach where he threatened to leave her if she did not have sex with him.
She told him tearfully to stop halfway through sex but the defendant continued.
The victim was described as "extremely vulnerable" and had a chaotic lifestyle after she was effectively abandoned by her parents in her early teens.
Another "vulnerable" victim of takeaway cook Miah, who also knew him as "Ali", was repeatedly violently raped in 2005 when she was aged 14 or 15 after he bought her vodka.
The court heard he had previous convictions for sexual offences as well as the attempted abduction of a 15-year-old girl who he approached in the street in his car in 2009 and falsely claimed her mother had told him to pick her up.
On sentencing, Judge Potter said: "You have a dreadful record of sexual offending against children and young women."
Operation Doublet
Both Miah's teenage rape victims came forward to police shortly after the publicity of the convictions of a gang of Asian men who preyed on girls in the town in 2012.
Four other men, who were also arrested as part of Greater Manchester Police's Operation Doublet investigation launched in the wake of the scandal, were jailed alongside Miah on Friday.
Ashefaq Yousaf, 30, of Rochdale, was jailed for 19 years for four counts of rape involving two complainants. Reporting restrictions against him were also lifted
Mohammed Sadeer, 28, of Brimrod Lane, Rochdale, was jailed for 12 years, with an extended licence period of four years, after he was found guilty of one count of attempted rape
Joshim Miah, 32, of Yorkshire Street, Rochdale, received a seven-year sentence for rape
Yousaf's younger brother, Ittefaq Yousaf, 26, of Stanley Street, Rochdale, was convicted of sexually assaulting one girl and inciting another to engage in sexual activity
He was sentenced to 18 months in jail and received an additional two-month sentence for a separate case of possessing and distributing an indecent image of a child.