'Extraordinary' aid for blaze-hit Lower Broughton church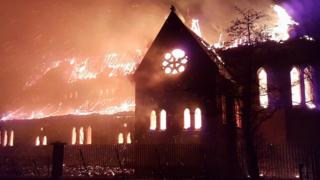 A vicar of a Grade II-listed church that was destroyed by fire has said he has been overwhelmed by offers of practical and financial help.
Canon David Wyatt said they had had an "extraordinary response" following the blaze at The Church of the Ascension in Lower Broughton, Salford last Sunday.
"One man arrived with three baskets of beautiful perfumed soap and said we could raffle them off," he said.
A church in Cambridge has also offered to make and pay for new altar linen.
Canon Wyatt added that parishioners should have a temporary place to worship in two to three weeks thanks to an "amazingly generous" offer. However, he said he could not reveal the location yet.
"I am convinced that God doesn't let us down. Something better will arise out of this disaster," he said.