Withington death blaze not suspicious, say police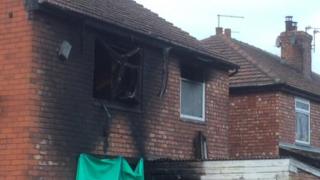 A fire that left four children orphaned was not suspicious, police have said.
Mohammed Awad, 56, and his wife Hasma Awad, 47, died in the early hours of Friday at a house in Manchester.
Three girls and one boy, aged between 10 and 17, and a man are all stable in hospital after the fire in Parsonage Road, Withington.
Det Insp Tony Lea, said there were "no suspicious circumstances" but that police were still trying to discover the cause.
He also praised people who helped save the children's lives.
"Once again I'd like to thank those members of the public who truly demonstrated community spirit by coming to the aid of those in the early hours that morning," he said.
"Their noble actions have had a huge impact both on these peoples' lives and the investigation."