Man hit by Manchester tram suffers serious injuries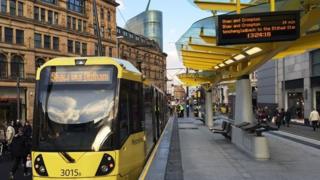 A man has suffered serious leg injuries after being hit by a tram in Greater Manchester.
Officers were called to reports of a collision involving a tram and a pedestrian at the Metrolink stop in Monsall at about 06.20 GMT on Sunday.
The 25-year-old man was taken to hospital with serious leg injuries.
Manchester Metrolink tweeted that "due to a medical emergency" there are no trams operating between Manchester and Rochdale.
Police are advising people to check whether their journey is affected and appealed for anyone with information about the incident to contact police.