Exclusive Brethren's plans for new hall in Mobberley rejected by councillors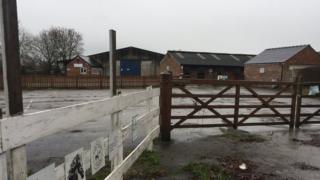 Plans by a conservative Christian group to build a new hall in a Cheshire village have been rejected by councillors.
Some residents in Mobberley claimed the Exclusive Brethren were too "insular" and could harm community integration.
The plans were deemed an "inappropriate development in the green belt" by Cheshire East councillors.
"We are disappointed with the outcome," said the Brethren. "We will be taking legal and professional advice."
The group, also known as the Plymouth Brethren Christian Church, had an estimated 20,000 members in the UK in 2011.
Followers adhere to a set of strict rules based upon their strict interpretation of the Bible.
In avoiding anything they perceive to be sinful, members cannot watch television, listen to the radio, or go to the cinema.
The Brethren said they had outgrown their current regional headquarters in Hale, Greater Manchester.
Local resident Richard Irving told the Cheshire East Council planning committee that the Brethren congregation "would not be part of the Mobberley community".
Concerns over traffic and questions over whether the Brethren would allow other local people to use the hall were also raised.
Sarah Foster, representing the company formed to apply for planning permission, said traffic studies had been carried out, and the Brethren were "committed to engaging" with the local community.