Mistreated shih-tzu 'didn't even look like dog'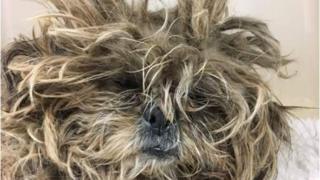 A neglected shih-tzu was found with such an overgrown coat that she was almost unrecognisable as a dog, the RSPCA has said.
Named Rosie by staff caring for her, the dog was handed into a veterinary practice, having been found as an apparent stray in Chesham Road, Bury.
The dog, thought to be aged between three and six, had no microchip and no collar or ID tag.
RSPCA inspector Lorna Campbell said the charity had launched an investigation.
She said: "The coat was so bad that the only option we had was to shave it all off.
"Once we'd removed the fur, it revealed a number of sores and wounds to her skin.
"I'd like to hear from anyone who might recognise her or know where she has come from to get in touch by calling our appeal line on 0300 123 8018."