Fans pay tribute to Bolton Wanderers disaster survivor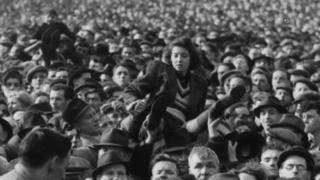 Bolton Wanderers fans have paid tribute to one of the last survivors of the 1946 Burnden Park disaster, who has died aged 102.
Fans held a minute's applause for lifelong supporter Phyllis Robb, 10 minutes into their team's home game with Charlton.
Mrs Robb was the subject of a famous photo which showed her being lifted above the crowd.
Thirty-six fans died in the crush at the FA Cup Tie against Stoke.
Mrs Robb, who was born in 1914, died on 19 January. Her nephew David Kay said his aunt would have been very touched by the tribute.
Her funeral is on Wednesday and her ashes are going to be scattered on the pitch at a later date.
Last year Mrs Robb told the BBC she retained vivid memories of the disaster.
She said: "I can remember barriers breaking down and they were all rushing out.
"I was more bothered about my father because he was still inside the ground."
---
'Forgotten disaster'
The Burnden Park stadium disaster on 6 March 1946 was the worst loss of life at an English football ground prior to the 1980s
The 1946 FA Cup was the first competitive football played since the end of World War Two and drew huge crowds
Fans from opposite ends had to use the same turnstiles because parts of the ground previously requisitioned for wartime storage were not in use
Other supporters had to pass the same area on their way to a separate terrace, creating a bottleneck
The gates were shut 20 minutes before kick-off as fans crammed into the ground but the critical situation deteriorated when a gate at the rear of the stand was opened
The cause of the gate opening is still debated but shortly after the match started two barriers gave way at the Embankment End
The huge crowd fell forward, crushing those in front
Play was initially stopped but resumed with bodies laid out behind the goal
---
A tribute from the club said: "The image of her escape has become one of the most powerful and iconic images of that fateful day."
Club chaplain Phil Mason added: "To see Phyllis as a young woman among all those people was very powerful indeed.
"She was so full of life and every day was an excitement for her - I remember she went pitch-side on her 100th birthday and it was hard to keep up with her."