'Brazen' Manchester drugs empire couple who 'flaunted' lavish lifestyle jailed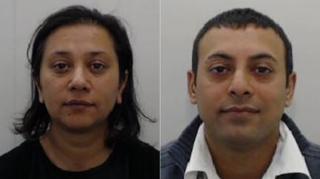 A couple who banked almost £500,000 and "brazenly flaunted riches funded from a drug empire" while claiming to be unemployed have been jailed.
Salina Sharif, 46, and her 45-year-old husband Shiraz Amjad Sharif's purchases included a £60,000 Range Rover.
Mr Sharif, who in May fled to Pakistan from Manchester, was jailed for four-and-a-half years in his absence for money laundering and drugs offences.
His wife, who denied money laundering, was jailed for two-and-a-half years.
She was found guilty at Manchester Crown Court on three counts but cleared on two others.
During a 2014 Greater Manchester Police raid of their home in Milford Avenue, Levenshulme, officers found 90% pure crystallised MDMA with an estimated street value of £30,000, as well as a large amount of drug paraphernalia.
'Staggering audacity'
Despite neither of them having a job and Salina claiming she was a student and accepting a £1,000 student loan and tax credits for their three children, police said the pair lived a lavish lifestyle.
As well as the Range Rover, their purchases included £30,000 of designer goods and a family holiday to Florida which cost more than £42,000, said police.
The couple also spent almost £100,000 putting their three children through private school.
Det Con Dave Berry said: "It is staggering that they would have the audacity to live so lavishly yet think they wouldn't get caught.
"They brazenly flaunted their riches despite claiming to be unemployed yet dropped their children off at an expensive private school in a £60,000 Range Rover.
"It may seem like a great idea when you're flying to destinations like Florida and the Egyptian Red Sea but that feeling will soon turn to regret when you're sat in a prison cell."