Man arrested over Blackley house 'gas' explosion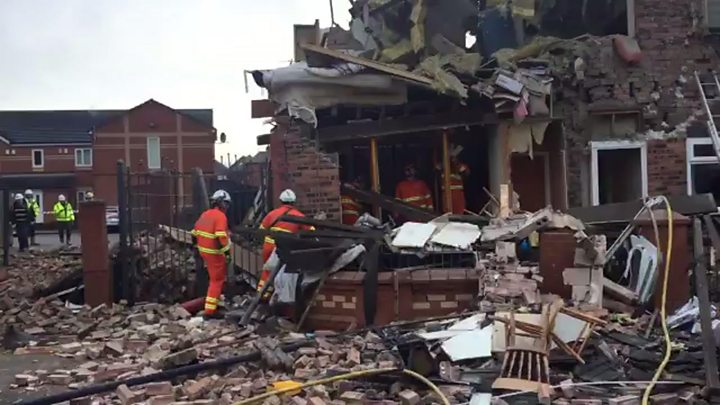 A man has been arrested following a suspected gas explosion at a house in north Manchester.
The blast reduced much of the end terrace property in Cecil Road, Blackley, to rubble on Monday afternoon.
Two men were taken to hospital. One is critically ill and the other is in a stable condition.
The latter, a 33-year-old man, is being held on suspicion of causing an explosion to endanger life.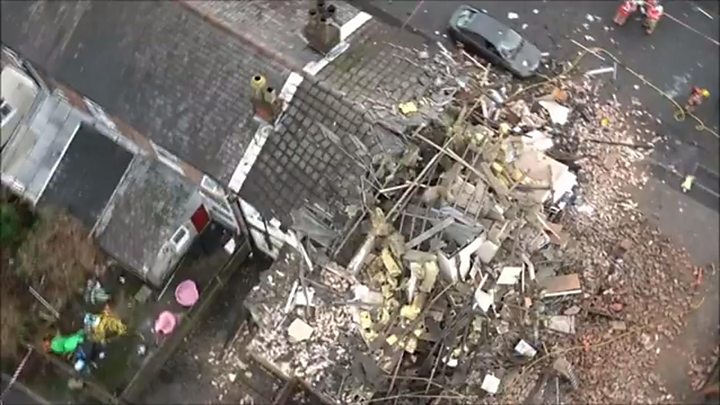 A 29-year-old man is in intensive care after suffering burns and being "thrown a considerable distance" from the property, police said.
The arrested man suffered burns to his face, arms and hands and will be undergoing surgery.
A third man who lived at the rented property was not at home and a 75-year-old man living next door emerged unscathed but has had to be temporarily re-housed.
Three people were treated at the site of the blast, which badly damaged the house next door.
Residents in surrounding homes were evacuated following the explosion.
The precise cause of the blast is not yet known but is being treated as gas-related, Greater Manchester Fire and Rescue said.
Det Insp Dave Sinclair said: "We are keeping an open mind in terms of the exact cause of the explosion, but based on evidence we have gathered so far, I'm satisfied at this stage we have evidence there is some criminality there.
"This was a devastating incident which has left two people in hospital with serious injuries and destroyed part of a terraced street."
The house is being "treated as a crime scene" and further investigations will be carried out once the site is deemed structurally safe to enter.
Det Insp Sinclair said witnesses had already come forward with "really pivotal" information.