Oldham Maple Mill blaze treated as arson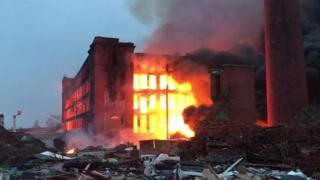 A major fire at a former cotton mill is being treated as arson, police said.
About 100 homes were evacuated while 80 firefighters tackled the blaze at Maple Mill in Oldham on 15 December. No-one was injured in the incident.
Witnesses reported seeing flames leap into the air up to 200ft (60m). The heat from from the fire could be felt 550 yards (500m) away.
Greater Manchester Police is seeking any information about the blaze, which took fire crews seven hours to control.
The front of the building collapsed during the fire.