Girl, 12, raped in Levenshulme by balaclava-clad man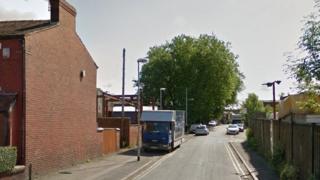 A 12-year-old girl was been raped after being dragged off a street into an alleyway by a man wearing a balaclava, it has emerged.
She was grabbed from behind while walking in Chapel Street, Levenshulme, Manchester, between 16:00 GMT and 16:30 GMT on 22 November.
The man, who was over 6ft tall, ran off in the direction of Stockport Road.
The girl reported the attack to police on 30 December. Police patrols have been stepped up in the area.
'Extremely brave'
The suspect was wearing dark clothing and a woollen balaclava with two eyeholes.
Ch Insp John-Paul Ruffle said: "The girl is understandably very distressed and we continue to offer her our help and support.
"She was extremely brave reporting this to police and we will do everything in our power to find the man responsible for this attack."
On 14 November a 31-year-old woman was raped less than a half a mile away at Cringle Park and in September a girl aged 12 was attacked at nearby Crow Croft Park.
Police said the attacks "are not being treated as linked".