Oldham hit-and-run crash: Victims 'held hands' in crash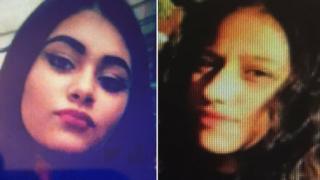 Two cousins were holding hands crossing the road when they were knocked down in a fatal hit-and-run crash, one of the victim's families has said.
Helina Kotlarova, 12, was killed by the driver in Oldham on New Year's Eve with Zaneta Krokova, 11, critically ill in hospital.
The girls had left a shop near their homes when they were hit by a black VW Golf in Ashton Road at about 19:15 GMT.
Greater Manchester Police said the driver of the car did not stop.
Family members have visited the crash site to lay floral tributes
Helina's sister Sylva, 19, told how her mother Sylva and father Robert raced to the scene 300ft (90m) from their home seconds after the crash.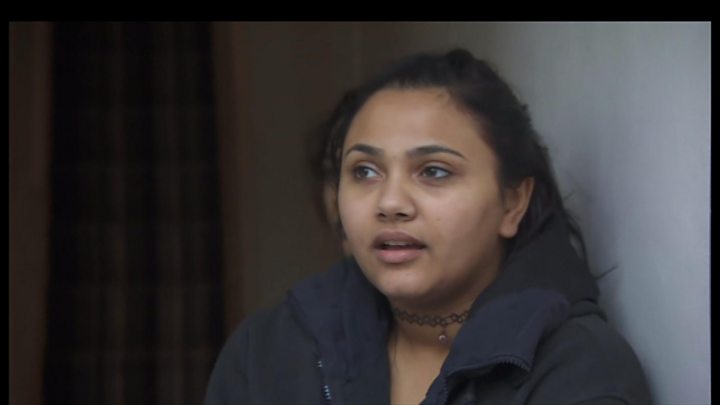 She said: "When we went there she was on the floor. I've seen her face and it was all bleeding.
"I was trying to see if she could breathe or something but she couldn't breathe
"Mum was touching her hair."
She added: "She had asked mum for £2 as she just wanted to buy some food."
The family of seven sisters and one brother came to England from the Czech Republic eight years ago.
Miss Kotlarova said the girls were with a larger group of family and friends who had already crossed the road, one of the main routes into Oldham town centre, and the larger group was waiting on the opposite pavement.
The two cousins then started to cross the road outside the shop.
Miss Kotlarova said: "But as they came to the other side of the road the car ran them over. They were holding hands."
She added: "It is just hard to believe she has gone, she was just too young."
Witnesses said the car was driven fast and "flying away" after the collision. Seconds later friends ran to Helina's home to alert the family.
She said Helina attended the Collective Spirit free school in Oldham.
She added: "She liked dancing and she was always singing."
Her injured cousin is critically ill in hospital in Manchester.
Miss Kotlarova added: "I did speak to her family but they said she's still fighting for her life."