Flood victims mark anniversary at Radcliffe church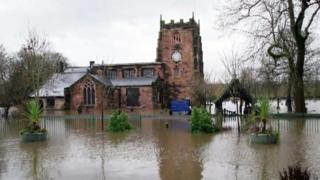 A church hit by flooding on Boxing Day 2015 has marked the first anniversary of the floods by gathering together victims of the deluge.
St Mary's in Radcliffe, Greater Manchester, was submerged in the wake of Storm Eva, which damaged more than 2,200 properties in the North West.
The Rev Carol Hayden brought flood victims - many of who are still not back in their homes - together at the event earlier.
She said many were "still in a mess".
The floods devastated large parts of Greater Manchester after the River Irwell and River Roch both overflowed, causing flooding in Radcliffe, Salford, Manchester city centre and Rochdale.
The Environment Agency has since embarked on flood protection programmes.
Ms Hayden said some people still live in temporary accommodation while others are only able to occupy the upstairs of their homes.
"I think there are people suffering post-traumatic stress disorder... and people need to be together to know they're not alone," she said.
She said that when it began raining on Christmas Day night "there were people moving all their precious possessions upstairs" and "children who wanted to take their toys to bed because they were frightened the flood was going to take them again".
The Grade I-listed church, which was at one point submerged under five feet of water, is still being restored, and dehumidifiers are being used to dry the building out.
The Environment Agency said new flood schemes have protected more than 2,100 homes in Greater Manchester, and 6,000 tonnes of gravel have been removed from rivers.