Salford murder: Piotr Olejarczyk jailed for stabbing Jakub Gorski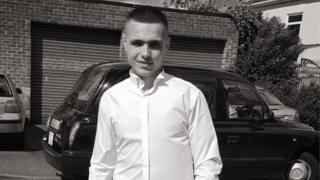 A man who stabbed a 19-year-old to death has been jailed for life for his murder.
Piotr Olejarczyk, 29, got into an argument with Jakub Gorski in Salford on 10 June before stabbing him in the heart with a kitchen knife.
Mr Gorski was taken to Salford Royal hospital where he later died.
Olejarczyk, of Knoll Street, Salford, was told he would serve a minimum of 21 years at Manchester Crown Court on Friday, Greater Manchester Police said.
Following the argument, Olejarczyk walked to a friend's house to fetch a kitchen knife before returning to confront Mr Gorski, police said.
When Mr Gorski approached him to try to disarm him, Olejarczyk stabbed him in the chest before fleeing.
Later that day Olejarczyk approached two PCSOs at the crime scene and turned himself in.