Three jailed over delivery driver's death in Ashton-under-Lyne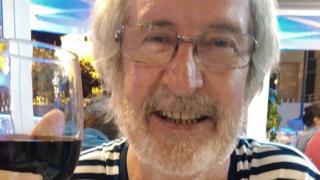 Three members of a gang who targeted high-value vehicles have been jailed for manslaughter following the "needless" death of a delivery driver.
James Ray died on his 70th birthday after either being pushed or having fallen in a car jacking at Plantation Industrial Estate in Ashton-under-Lyne.
Mark Ward Jnr, 25, of Rochdale, was convicted after a trial at Manchester Crown Court.
Patrick McDonagh, 20, and Patrick Cawley, 22, had earlier pleaded guilty.
'Reckless theft'
The robbery happened while Mr Ray, from York, was unloading washing powder at a laundry.
The court heard it was accepted none of the defendants knew Mr Ray was inside the van when they drove off but must have known an accident had happened as the side door of the van was torn from its hinges.
Mr Ray's daughter, Catherine Walker, said the family's world had "utterly collapsed" following her father's death.
She said: "The circumstances and nature of my dad's death has been devastating and caused excruciating pain to myself and my whole family,
"We were looking forward to a weekend of celebrating his 70th birthday. Instead we found ourselves dealing with his needless and pointless death."
---
The accused
Mark Ward Jnr, of Royd Street, Rochdale was jailed for 13 years after being given an eight-year sentence for manslaughter and five years for conspiracy to steal.
Patrick McDonagh, of The Cray, Milnrow, was jailed for eight years and four months for manslaughter, conspiracy to steal and breaching a previous suspended sentence.
Patrick Cawley, of Orchard Crescent, Chadderton, received a seven-year jail sentence for manslaughter, three months for a separate burglary and an eight-month concurrent sentence for conspiracy to steal.
All three men received 18-month jail terms to run concurrently for aggravated vehicle taking.
---
Judge Patrick Field QC said there was no direct evidence as to what role each man played.
He said all three were in a gang that committed a series of "frankly audacious" thefts in the North West between July and November 2015.
Expensive cars and vans, together with power tools and surveillance equipment, totalling about £220,000 were stolen in "well-organised, ruthless executed" raids, he said.
Three other men, who were part of the gang but not present during this raid, received sentences for conspiracy to steal.