Manchester hospital's £5m unit to 'ease bed-blocking' approved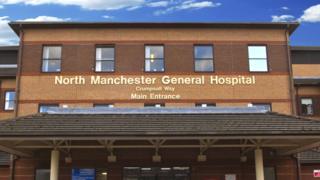 A new £5m care unit to "ease bed-blocking" at a hospital in Greater Manchester has been approved.
The 24-bed unit at North Manchester General Hospital will support patients ready to be discharged but not well enough to go home.
Nurses, physiotherapists, GPs and occupational therapists are among those expected to work at the centre.
Pennine Acute Hospitals NHS Trust said it "will aid the transition between illness and recovery".
The trust, North Manchester Clinical Commissioning Group (CCG) and Manchester City Council are behind the plan approved by the local authority on 13 December.
The trust has been providing nine temporary care beds at North Manchester General Hospital since November 2014 and 15 beds are also provided in the community at Henesy House, a residential home in Collyhurst, Manchester.
The intermediate care unit will replace all of these beds and help ease bed blocking and support elderly patients being discharged from hospital, it said.
Professor Matt Makin, medical director at the trust, said the unit would "give patients access to a superb team of health and social care professionals and help patients adjust to home life again".
North Manchester CCG said the unit would normally be a short-term option for around three weeks to "give patients enough time to feel better and go back to their daily lives".
It is expected to take a year to build, the trust said.