Rio Ferdinand donates £500k of toys to Cash for Kids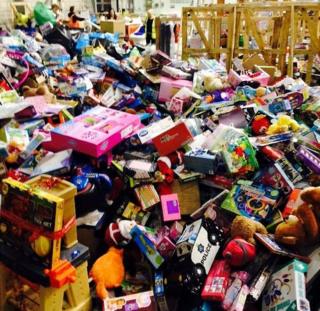 Former England football captain Rio Ferdinand and his restaurant have pledged £500,000 of toys and gifts to a children's charity.
The Manchester United star posted on his official Facebook page he and his Rosso Restaurant hoped to "put a smile on local kids' faces this Christmas".
He announced the donation live on air to Cash for Kids, the official charity of Manchester radio station Key 103.
The charity said it was "totally overwhelmed" with the donation.
Ferdinand told the station: "Christmas is a time when families want to get each other presents and there are obviously people that are less fortunate than we are so we want to try and help them and donate £500,000 worth of toys."
He said: "As a father myself I couldn't see children going without opening a present this Christmas day.
"We're not looking for a thank you, we're just trying to help people out."
The charity's manager Russell Feingold said on the station's website: "We are totally overwhelmed by Rio's amazing contribution.
"This is going to help so many young children."
The charity which supports disabled and disadvantaged children in Greater Manchester said its Mission Christmas campaign aims to help at least 60,000 children in Manchester who are at risk of not getting a present this Christmas.
Ferdinand won 81 England caps, plus six Premier League titles with Manchester United.
He is now a TV pundit and restaurant owner.