Oldham Maple Mill fire: Homes evacuated as crews fight 'major' blaze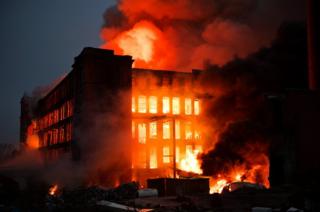 Hundreds of people have been evacuated from their homes as 80 firefighters tackle a huge fire at a former cotton mill in Oldham.
A total of 100 homes were cleared when the fire broke out after 04:15 GMT with 10 fire engines called to the scene.
Fire crews later had to withdraw as part of the Cardwell Street building collapsed in the intense heat.
It took crews nearly seven hours to get the blaze under control with the heat being felt 1,600ft (500m) away.
Greater Manchester Fire and Rescue Service (GMFRS) said it managed to stop the flames causing electricity blackouts to 2,500 homes and averted gas explosions.
Gas, propane and oxygen cylinders were covered with water to prevent them exploding and an electricity sub-station was found in the mill's courtyard.
Area manager Warren Pickstone said: "If that would've gone down, approximately 2,500 properties would have lost their electricity.
"We made sure that we kept that at bay."
The BBC has learnt the former textile mill is owned by kitchen businessman Vance Miller, who was the subject of a failed Trading Standards prosecution in 2010.
The site has suffered from previous fires: in 2009 nearby homes had to be evacuated when an explosion led to a fire and there was another blaze at the building three months ago.
GMFRS confirmed it would now be investigating the latest incident which it confirmed broke out on the top floor of the mill.
Read more about this story in our local live section
The fire service had declared the blaze as a "major incident".
Witnesses saw flames leap up to 200ft (60m) and said the front of the building had collapsed.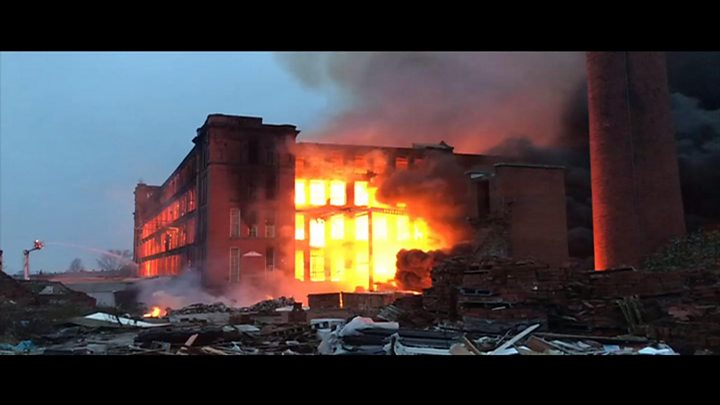 There are not thought to be any casualties but local residents have been advised to keep their doors and windows closed.
An emergency "rest centre" has been set up by Oldham Council in the nearby Honeywell Centre for those residents evacuated from their homes.
Eyewitness Sarah Jones told the BBC: "I was woken by two loud bangs that I thought were gunshots but they were explosions."