California boat skipper charged over 1978 murders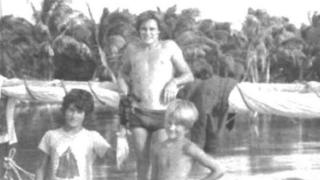 A former tourist boat skipper from California has been charged with murdering a couple from Manchester in central America nearly 40 years ago.
Silas Duane Boston, 75, is accused of murdering graduates Christopher Farmer, 25, and Peta Frampton, 24, who had chartered his boat in 1978.
Their bodies were found tied to heavy machine parts in waters off Guatemala.
Their families asked Greater Manchester Police (GMP) to reopen the case after the US investigation remained unsolved.
A retired GMP detective had kept copies of the original investigation in a garden shed at his home and they were passed to the FBI.
They showed medicine graduate Christopher Farmer, and law graduate Peta Frampton were taking a year travelling in 1977 starting in Australia before heading to the Americas.
According to court documents filed in California on 1 December, Silas Boston's two sons, who were then aged 12 and 13, were also on the boat.
Vince Boston claimed he witnessed his father attack Mr Farmer with a club and a knife after a disagreement.
He said Mr Boston then bound the young couple and pushed them overboard.
The couple's families became concerned when they failed to hear from them for several weeks and alerted authorities who connected two bodies found off the coast of Guatemala to the missing pair after post-mortem examinations.
Silas Duane Boston was arrested last week over their deaths and will face trial in California.