Manchester City's Yaya Toure on drink driving charge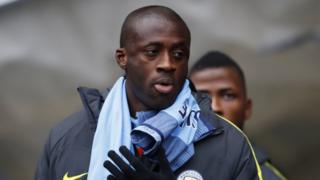 Manchester City footballer Yaya Toure has been charged with drink driving, police have confirmed.
Police said the 33-year-old of Macclesfield, Cheshire was driving in Dagenham in east London at the time of the alleged offence.
Police said he was charged on Tuesday with driving while his alcohol level was above the legal limit.
He has been bailed and is due to appear at Barkingside Magistrates' Court on 13 December.
The midfielder played in Manchester City's 3-1 defeat at home to Chelsea on Saturday.
He was recalled to the Manchester City squad earlier this month after apologising for "misunderstandings" relating to comments made by his agent Dimitri Seluk.
In 2012, Toure spoke about being a devout Muslim and refused a champagne man of the match award due to his religious beliefs.
The club is yet to comment.