Wigan policeman given award for saving suicidal man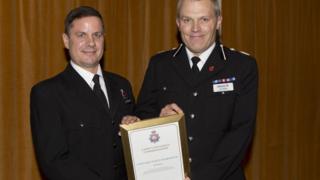 A police officer who saved the life of a suicidal man has been hailed a hero.
Emergency services were not immediately able to find the man - who had sent a photograph of a rope to an ex-partner, saying he was going to hang himself - at Haigh Hall Country Park in Wigan.
But Greater Manchester Police officer Martin Burkinshaw, 42, refused to give up and searched for more than five hours before finding him up a tree.
After pulling the man on to a branch, he used a lighter to burn the rope.
Mr Burkinshaw, who works as a neighbourhood police officer in Wigan, has been awarded a Chief Constable's Commendation by Greater Manchester Police.
Of his night-long search, he said: "Whilst I was looking for him I kept seeing his poor parents frantically searching for him and this spurred me on to carry on looking for him.
"When the mountain rescue team and my colleagues found us I felt relieved and then is when it dawned on me that the man was so close to dying and we had managed to save him."
Mr Burkinshaw visited the man in hospital the next day.
The man, who said he had picked the remote spot deliberately so as to minimise his chances of being found, was "immensely grateful", police said.
Deputy Chief Constable Ian Pilling said: "It is only through Martin's sheer dedication, the thoroughness of his search and the unwillingness to let a family lose their son, that the man's life was saved."