Man jailed for having 'paedophile manual'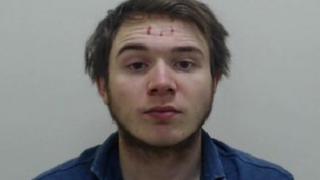 The owner of a "paedophile manual" full of advice and guidance on sexually abusing children has been detained.
Daniel O'Neill, 19, admitted owning the document when he appeared at Manchester Minshull Street Crown Court.
O'Neill, of Warwick Road in Failsworth, Greater Manchester, was convicted under a new law introduced in May 2015.
Also convicted of engaging in sexual activity with a child, and making and possessing indecent images of children, O'Neill was given 50 months' detention.
The charge relating to the manual, Section 69 of the Serious Crime Act 2015, replaces a previous law under which it was only illegal to publish such a document, not to possess one.
O'Neill, who will initially serve his sentence in a young offenders' institution, becomes the first to be successfully prosecuted for the offence as a result of a Greater Manchester Police investigation.
In March 2016, police became aware of concerns about O'Neill meeting with an underage girl.
Following inquiries it was revealed he had been engaging in sexual activity.
When officers searched O'Neill's address, they found indecent images of children on a device as well as the "paedophile manual".
Det Ch Insp John Harris said: "This conviction... recognises just how serious it is to have one of these manuals. Even if someone has not necessarily committed a sexual offence, this act allows us to intervene early and arrest someone before they potentially harm a child."
---
Charge sheet
Sexual activity with a child with penetration: 40 months in a young offenders' institute
Possessing a paedophile manual: 10 months (to be served consecutively)
Sexual activity with a child with no penetration: four months (to be served concurrently)
Making indecent images of children: four months (to be served concurrently)
Possessing indecent images of children: two months (to be served concurrently)