Chloe Cockton: Crash teen 'held dying sister in arms'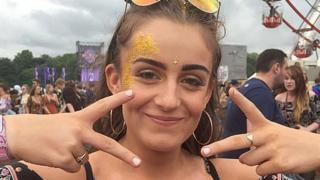 A teenager has told a court how her younger sister died in her arms after a crash caused by dangerous driving.
Sophie Cockton read a victim impact statement at Manchester Minshull Street Crown Court as Michael Bowker, 19, was sentenced to six years six months for causing the death of Chloe Cockton, 16.
The 18-year-old, who was in Bowker's car with her sister and a friend, said: "I watched her bleed to death."
"My soulmate, my life, my purpose has been snatched away."
Bowker, of Croft Street in Rochdale, admitted causing death by dangerous driving over the crash, in which he suffered a head injury that required reconstructive surgery.
Michael Morley, prosecuting, said the 19-year-old had offered the sisters and 17-year-old Shauna Taylor a lift home from a rave at Rochdale's Greenbooth Reservoir in the early hours of 24 July.
He said the girls had realised the seatbelts in the back seat were not working, but Bowker laughed and said: "You'll be fine".
'Gambling with their lives'
The court was shown mobile phone footage, showing the three girls dancing in the car as loud music played, and told the teenagers later pleaded with Bowker to stop the speeding car.
Ms Cockton told the court she still had flashbacks of her sister screaming at Bowker to slow down as he drove on the wrong side of the road.
Mr Morley said Bowker did not react to their pleas and had "zoned out in some way... almost like he was in a trance".
Bowker, who the court heard had no alcohol or drugs in his system, eventually crashed into a pedestrian barrier on Bury Road after losing control on a bend.
Chloe Cockton was pulled from the Renault Clio by the teenagers after the crash and was treated by paramedics for 40 minutes before being taken to hospital where she later died of chest injuries.
Sophie Cockton suffered fractures to her collarbone and shoulder while Ms Taylor also suffered a collarbone fracture and dislocated her shoulder.
Rachel Shenton, defending, read a letter written by Bowker, in which he said: "I really wish it was me that lost my life that night. I feel so guilty."
Sentencing him, Judge Paul Lawton said: "You thought you were impressing three young women in the rear of your car.
"In truth, you were gambling with their lives."
Bowker, who will serve his sentence in a young offenders institution, was also disqualified from driving for eight years.