Jordon Begley death: IPCC wants to quash Taser case report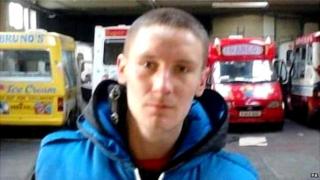 The police watchdog has taken legal action to get its own report clearing officers of serious wrongdoing following a man's death, quashed.
Jordon Begley, 23, died after being Tasered by officers in Manchester in 2013 amid a row with neighbours.
In the first case of its kind, the Independent Police Complaints Commission has told the High Court its 2014 case report was legally flawed.
The officers involved have opposed the request to overturn the report.
Eleven Greater Manchester Police officers were despatched to Mr Begley's home after his mother called 999 reporting he had a knife.
He was shot with the 50,000 volt Taser gun from a distance of 28in (70cm) and was hit with "distraction strikes" while being restrained and handcuffed by three armed officers, a 2015 inquest was told.
The inquest jury delivered a narrative verdict, concluding he died partly as a result of being "inappropriately and unreasonably" Tasered and restrained.
A year earlier, the commission (IPCC) report into the investigation concluded no officers should be prosecuted or face misconduct proceedings.
But now, its lawyers have told the High Court there should be "a new and lawful" investigation.
'Fighting for apology'
Jeremy Johnson QC, representing the IPCC, said there had been "a serious departure" from statutory requirements.
He said the investigator who prepared the report had not applied the correct legal test and did not accurately summarise the evidence, or attach or refer to all relevant documents.
The QC said a new investigation was the appropriate way of vindicating the right of Mr Begley's mother Dorothy to a proper inquiry, under the European Convention on Human Rights.
Ms Begley, who attended the hearing, said: "It has been more than three years and I am still fighting for someone to say sorry for destroying my family and taking my son's life."