'Monstrous' Manchester Piccadilly Gardens wall to be demolished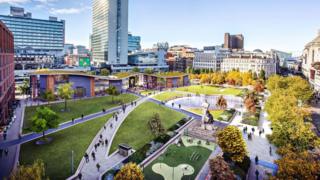 Pictures of a planned £10m revamp of a Manchester landmark described as a "concrete monstrosity" have been revealed.
Manchester City Council said it had taken public opinion into account to remove the current wall and pavilion in Piccadilly Gardens.
It said it will improve the quality and safety of the area.
The plans, to be funded by leaseholders Legal & General, will go before the executive committee on 16 November.
The current pavilion and wall would be replaced with two new pavilion buildings to sit alongside improved gardens and lighting, as well as new bars and restaurants.
The move has been welcomed on social media.
Posting on Twitter, Robert Varley said: "Loving the plans to regenerate Manchester Piccadilly Gardens. I'll be there to watch the wall get torn down"
Andy Sherrington tweeted it was an "abomination it was ever erected".
And Jessica Simpson added: "whose bright idea was it in the first place for that concrete monstrosity? Taxpayers money wasted."
The wall was believed to have been built in 2002.
An estimated 16m people pass through Piccadilly Gardens each year, according to Manchester City Council.