Bolton Council: Budget plan to axe 240 jobs agreed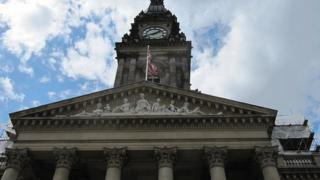 Nearly 240 jobs are to be axed at Bolton Council as the authority looks to save £12.5m in its latest plan to make budget cuts.
Cabinet members backed the two-year plan which will also see it dig into cash reserves for the first time.
The Labour-run authority is allocating £30m from council reserves to avoid making further cuts.
Details of the job losses are yet to be finalised but the council said it hoped to avoid compulsory redundancies.
Leader of the Conservative group, David Greenhalgh, who has called for the use of reserves to mitigate savings in the past, questioned the timing of the plan.
He said: "When we have suggested this before, we were told that it is just delaying a saving that needs to be made in the future.
"Now it is going to be used to help 'cash flow' - what has changed in a year?"
'Harsh' budgets
Borough treasurer Sue Johnson said it was the "right time" to dip into the council coffers to tide the budget process over.
She said it would help the authority understand its position when plans for authorities to retain 100% of locally-collected business rates are introduced before the next parliament.
Labour councillor Nick Peel said it was the sixth time the council has had to set harsh budgets against a backdrop of massive cuts.
He said if it does not dip into its reserves, it would "simply not be able to run the vital services".
It is thought that 239 posts will be affected under the latest plan.
The authority currently has 441 vacant posts, although more than half of these are considered to be "business critical" and covered by agency staff.