Christmas stamps feature festive favourites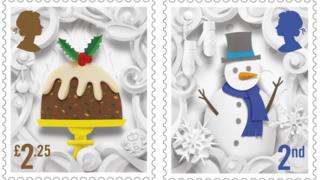 Royal Mail has unveiled this year's Christmas stamps featuring traditional festive images including a snowman, robin and a lantern.
The set of six stamps were crafted by Manchester-based paper artist Helen Musselwhite using paper cut-outs which were then photographed.
She said she was "immensely proud" to illustrate the stamps.
A Christmas tree, pudding and stocking complete this year's set, which range from first and second class to £2.25.
Ms Musselwhite said crafting the stamps has been "one of the most important and favourite jobs" of her career.
She said: "I'm immensely proud my work will be winging its way across the world sending season's greetings far and wide from the UK."
Royal Mail said the robin's appearance on Christmas cards was inspired by the red waistcoats worn by postmen in Victorian times.
Christmas stamps were first issued in 1966 when Royal Mail ran a competition on BBC's Blue Peter to select the design.
The last recommended posting dates are 20 December for second class stamps and 21 December for first.